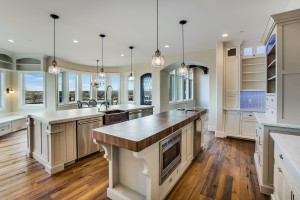 At The Artisan Shop, we know that custom kitchen cabinets are only half the story when it comes to renovating your kitchen. Choosing the right countertop material can really tie the whole room together. If you are looking at custom cabinets in Colorado, don't forget to consider the countertop material. In this blog, we are going to take a quick look at some of the most popular kitchen countertop materials out there.
Quartz
Quartz is one of the most popular countertop choices, and with great reason. It is easy to clean, extremely heat and impact resistance, and doesn't need to be sealed. It comes in a wide variety of colors and patterns, so it is easy to get pieces that match the look you are going for. In fact, there is only one other surface that is more popular than quartz…
Granite
… and that is granite. Granite is the most popular choice for the majority of homeowners, due to its durability, great looks, and functional surface. Polished granite is a great prep surface, but make sure to wipe it down immediately. Granite does need to be sealed at regular intervals, so make sure you are able to follow a maintenance schedule to protect your investment if you choose granite countertops.
Laminate
Laminate countertops are resurging in popularity due to their low cost and great looks. Laminates are now available in a wide variety of colors and patterns. You can even imitate the look of other materials with certain laminate patterns, such as wood grain. Laminate is easy to care for, but it is not as durable of a prep surface as stone, wood, or metal. Take care to not set any hot pans directly on your laminate surface.
Wood
Wood looks great, and is supremely functional. If it is properly sealed, you can even cut meat on them with no need to worry about sanitary issues. Wood is also very heat resistant. Matching wood countertops to your custom cabinets is something our designers can help you with to ensure the best aesthetics for your new kitchen.
Marble
Marble is the ultimate choice for high class aesthetics. Marble is a great choice for a timeless look. It can be slightly more work to care for, so be sure to reseal your marble countertops on a regular basis. Marble is very porous, so sticking to your resealing schedule is extremely important to protect your countertops from staining and other wear.
Stainless Steel
Stainless steel is an excellent material that will never go out of style. Adding stainless steel countertops to your kitchen can give it a very modern, industrial look and feel. It is extremely hygienic, more so than any other material. The color of the steel goes well with every type of wood.
As you can see, there are a wide variety of great countertop materials available nowadays. Choosing the right one for your home is simply a matter of personal preference, as all of these options provide great aesthetics, and are highly functional. Give us a call today to start designing the kitchen of your dreams!