When you are planning out your dream kitchen, some of the most important choices you make will be which materials to incorporate. In our last blog, we looked at some of the most popular choices for countertops, including granite, stainless steel, wood, and others. Choosing your countertop material is an extremely important step in the process when considering custom cabinets in Colorado. Another key decision you will have to make is which wood and what style of hardware to choose. In this blog, we will look at some of the things you will want to consider when you are making this decision.
WOOD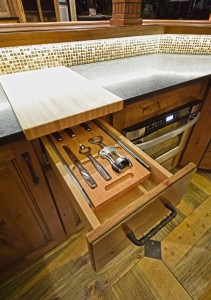 For most people, aesthetics is the number one consideration when choosing which wood to use for their custom kitchen cabinets. After all, the look of your cabinets is the first thing you will notice when walking into a kitchen. Each hardwood has its own distinct look, so no matter what aesthetic you are after, there is a wood for you. Popular choices include cherry, maple, and oak.
Hardware
Another thing to consider is what type of hardware you would like. There are endless options to choose from when it comes to what style of cabinet hardware to use. Aside from aesthetics, you should also think about the functionality of the hardware. For example, choosing soft-close hinges and drawer slides is a popular choice nowadays.
With these things in mind, choosing the wood for your cabinets should be a little easier. If you are still having trouble deciding, our design experts can work with you to help make the decision. Contact us today to learn more; we'd love to make your dream kitchen a reality!