One of our favorite custom cabinetry projects to build for our clients is the home bar. Designing and building a home bar is fun because we know that it will help provide years of entertainment for our clients. After designing and installing your home bar, you'll need to get to work stocking it with all of your favorite drinks. In this blog, we will go over some tips we've picked up over the years for perfectly stocking your home bar for any occasion.
STICK TO YOUR FAVORITES…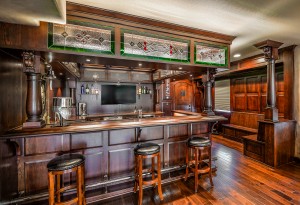 The most important thing to do when stocking a home bar is to fill it up with all of your favorite drinks. After all, you are the one who will be using this bar the most! Once your bar is finally installed, treat yourself to your favorite bottles.
…BUT KEEP THESE ESSENTIALS ON HAND.
After stocking your custom home bar with all of your favorite drinks, it is important to round it out with some essentials so that you have the versatility to make a wide variety of drinks. Here are some drinks you should always have on hand:
Gin
Vodka
Bourbon
Scotch
Tequila
Rum
Wine
Craft beer
DON'T FORGET THE MIXERS!
Finally, it is important to remember to keep mixers on hand. Here are some that you should always have in stock:
Cola
Lemon-lime soda
Ginger ale
Cranberry juice
Bitters
Orange juice
Club soda
Tonic water
There you have it – our tips for successfully stocking your home bar. Are you ready to add some custom cabinetry to your Colorado home? Contact us today to learn more about our process and to schedule your first appointment.